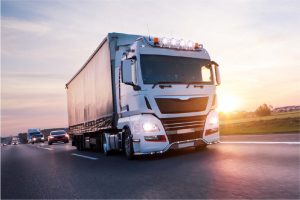 Working Minds campaign will now target HGV drivers and their bosses to promote good mental health whilst at work. The Road Haulage Association (RHA) on Thursday 10 August joins as a campaign partner.
Health and Safety Executive (HSE) view is that more needs to be done to protect Britain's truckers from work-related stress.
Long hours away from home, demanding delivery times and limited access to toilets and showers are common causes of stress for drivers.
As part of the campaign, when safe to do so, drivers can text "BeAMate" for free confidential health support 24/7 – a service provided by Working Minds campaign partner, Mates in Mind.
Material and advice from the Working Minds campaign for drivers and employers can be found here.
Mental Health Statistics
Mental health charity Mind revealed 30 per cent of work-related illness in the transport and logistics sector is due to stress, depression, and anxiety. One in four HGV drivers will experience mental health issues at some point throughout the year.*
Talking about mental health can be a struggle for many people, especially men, who make up 80 per cent of our industry's workforce. Due to the stigma surrounding mental health, 95 per cent of workers calling in sick due to stress give a different reason to their manager. Mind also reports that 22 per cent of workers have been diagnosed with a mental health problem, but less than half have told their manager.*
Elizabeth Goodwill, from the HSE's Stress and Mental Health Policy Team said: "HGV drivers keep the country and our economy moving. It's therefore vital employers meet their legal duty to ensure risks of stress and mental ill health are factored into risk assessments.
"Initiatives such as 'BeAMate' are helpful for people needing individual help, but we would like to see more focus on preventing work-related stress at an organisational level, to stop it developing into poor mental health. We look forward to working with the Road Haulage Association and Mates in Mind to provide employers with the help they need to protect and support drivers.
Michelle Upson, a lorry driver who has been in the industry for more than three decades said: "I'd say there is a mental health problem in the industry. Especially for the guys up the road all week and without their families – it is a lot tougher for them.
"Most of the workforce is men and the age demographic is still high. I think they are less likely to talk about their mental health problems so promoting it is a good thing."
Work-related stress is on the rise
HSE and the Working Minds campaign warns that the scale of work-related stress across the economy has increased in recent years. Stress, depression or anxiety is now the number one cause of work-related ill-health in Great Britain.
Within the transportation and storage sector as a whole (which includes road haulage), around four in ten cases of work-related ill-health are due to stress, depression or anxiety.
Text "BeAMate": If you or someone you know needs help or support, you can use our "BeAMate" text support service. To use the service, simply text "BeAMate" to 85258 and trained volunteers can help with issues including anxiety, stress, loneliness or depression and are available 24/7.
Contact us for further advice.