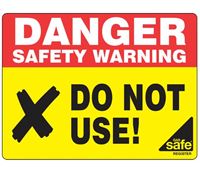 If you want your business to run compliantly and efficiently, it's important to pay attention to best practice in implementing health and safety policy.
The Health and Safety Executive (HSE) website contains useful information on the workplace laws that cover the processing, manufacturing and packaging of a wide range of goods, including:
Cosmetics
Electrical products
Fireworks
Foodstuffs
Gas appliances
Medical devices
Personal protective equipment (PPE)
Toys
These laws therefore cover a wide range of equipment and accessories.
Packaging and labelling
As well as the safety of the goods themselves, there are guidelines about how they are packaged and marked or labelled. These are to ensure the safety of workers who handle the goods and transport them, as well as the consumers who buy them. Appropriate safety and warning labels ensure workers are aware of dangerous goods and hazards, so goods can be handled, stored, transported and distributed according to best practice.
Packaging labels are used to make sure goods are handled according to the nature of their contents by indicating, for example, if they contain something that is fragile, hazardous or delicate. They are used by manufacturers to ensure the safety of their products during storage and distribution.
Safety labels
There is a huge range of safety labels available that are designed to meet all business labelling needs. For example, most workplaces use access labels to indicate entrances and exits, accessible areas, prohibited areas and convey other access-related instructions. Fire safety labels are used to guide employees and visitors in the event of a fire, while first aid labels are used to address the treatment of injuries.
Among general safety labels are those that warn of potential hazards, such as very hot water in a washroom or hot surfaces in a kitchen. Responsible employers should clearly label where water suitable for drinking can be found and apply warning labels to outlets where the water is not suitable for drinking.
There are also specific types of safety stickers and hazard labels available for:
Electrical hazards
Places where a hearing loop has been installed
Places where mobile phones are prohibited or allowed
Potential sudden loud noises
Toxic materials
Work areas that are unsafe for people with pacemakers.
Legal requirements
In addition to general legislation, special requirements apply to several business sectors. These include retailers, as well as those who manufacture, process or distribute the following:
Food and drink.
Precious metals.
Products for children.
Taking the time to ensure your business is complying with workplace law is very important. If you have any doubts or questions, it's always best to check with your local trading standards office, as this is a good way to make sure you are trading legally. You can also use your local office to report anyone trading illegally.
Finally, while complying with the law is essential, best practice for using safety labels should also become part of your internal business processes, as it will help minimise the risk of accident or injury, ensuring your employees are working in a safe, healthy environment.
Contact us should you require assistance.